LiveVIEW™ is an extension of VentSim™ software, and will operate in conjunction with the main VentSim™ license.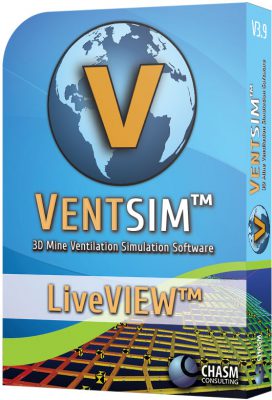 LiveVIEW™ provides a number of additional functions to enable the software to connect externally to data sources and display the ventilation data within the program. Examples of this may include airflows, temperatures, gases or pressures, or even machinery such as diesel or electrical equipment.
LiveVIEW™ also provides an interface to simulate ventilation models using captured sensor data, offering an ability to display downstream simulated results from actual data.
Sensor Monitoring with VentSim LiveView™
Real time sensor monitoring is an exciting new addition to VentSim™ LiveView to compliment your existing mine ventilation information systems.
The LiveView™ module (included in VentSim™ Premium and optional in other versions), allows you to link your 3D VentSim™ model to a live stream of sensor data, displaying all types of important ventilation information including airflows, gases and temperatures, as well as the status of fans, doors and other ventilation controls. Alarms can also be set when critical sensor information gets above or below allowable levels.
Dynamic Monitoring
Ventsim™ 4 includes a new feature in LiveView™ called Dynamic Monitoring.
Dynamic monitoring continuously imports and displays ventilation data within your model, and then uses the data to predicted conditions through all other parts of the mine in real time.
With a minimal number of sensors, VentSim™ can help show and visualise changing conditions through every part of your mine, even areas without sensors. VentSim™ Dynamic Monitoring is an ideal addition for control rooms, and engineers requiring live information to observe or troubleshoot ventilation conditions through the mine.
Howden Simsmart can assist in providing information and advice for hardware sensor installations and VentSim™ software integration into new or existing underground sensor systems. Contact Howden at (+61) 7 3844 5097 or email us at [email protected] for further information.
LiveVIEW™ - Add-on Module
VentSim™ Premium - Includes LiveVIEW™
* All prices in AUD (Australian Dollars) and does not include GST..
** License is per PC or individual. Licenses contain "virtual keys" restricting use to one PC at a time.
*** Additional site licenses can be purchased at a 25% discount. Please contact us for more information.