The traditional Ventsim duct builder feature provides a detailed way to model fan and duct performance in 3D.  However, sometimes quick and simple checks and designs are required for simple systems.   The new Duct Calculator tool is a standalone software application as well as included in Premium that provides a quick and simple way to simulate fan and duct performance over difference sized ducts and lengths.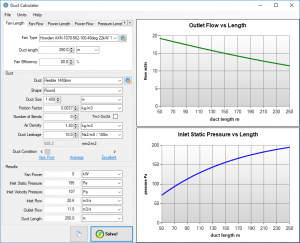 The Duct Calculator is a stand alone application that has been designed to make simple calculation based on fan and duct arragement quick and easy.
The software allows fan curves to be quickly entered or imported from a Ventsim model, and then modelled for flow input and output, pressure and air leakage (associated with different duct conditions).  If a fan type or power is not known, a required airflow or available power can be entered, and the software will calculate missing information such as maximum power, airflow and duct length limitations for specific sized or shaped duct.
The software reports result in easy to understand graphs that display duct performance as it is extended to its maximum length along development routes.
* All prices in AUD (Australian Dollars) and does not include GST..
** License is per PC or individual. Licenses contain "virtual keys" restricting use to one PC at a time.
Please contact us for more information.