Ventsim™ DESIGN HVAC provides powerful set of tools for designing HVAC simulation, models can be constructed from schematic data and building plans, either from CAD drawings, floorplans or from Industry Foundation Class (IFC) format.

Ventsim™ DESIGN HVAC  can be used to simulate Air, Heat, Gas, Contaminant and Fire. Rooms and Doors are included as key parts of the ventilation network.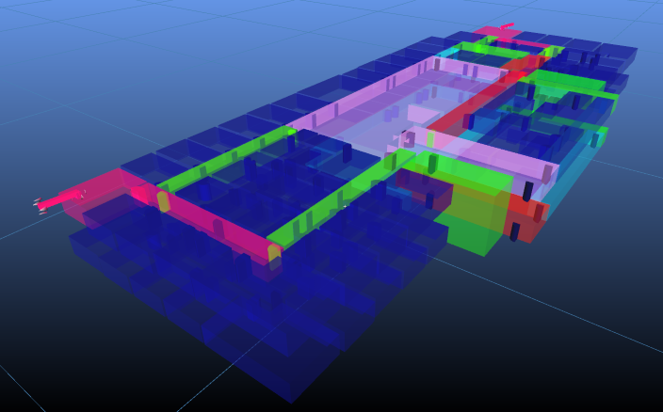 With a Ventsim™ DESIGN HVAC model of a building, users can test ventilation systems, test the effectiveness of different fans and heating units for a given building, track the paths of any pollutants that enter or are generated in the building, or examine the air changes per hour in all of the rooms.
If a fire occurs in a building, it is critical that the potential effects and spread of heat, smoke and gas is understood, and that emergency procedures are in place to ensure the safety of anyone in the building.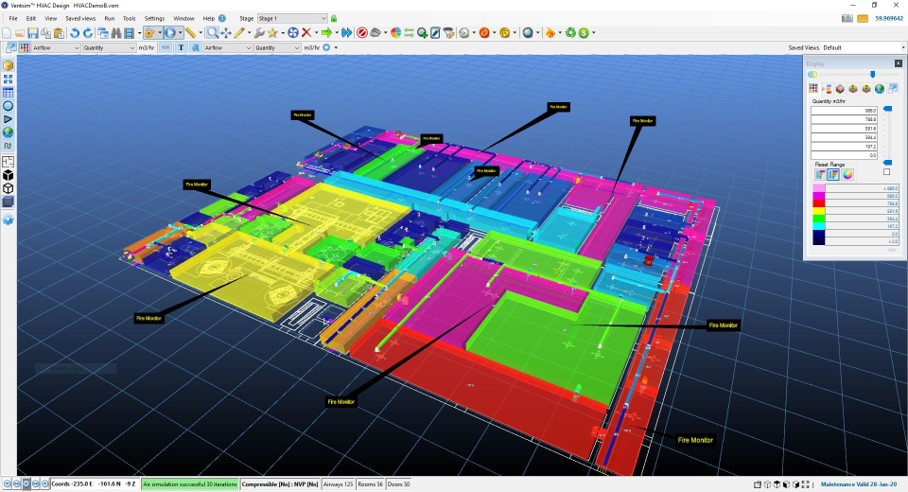 Ventsim™ DESIGN HVAC can model the impact of a fire on the ventilation system, including the heat, gases and smoke from a potential fire, and predicts the atmospheric conditions in all parts of the building at any time during the event, including any unexpected changes that may occur such as airflow reversals or airflow choking. Ventsim™ DESIGN HVAC also allows the HVAC engineer to test mitigation ideas or emergency responses to limit fire impacts, such as the use of fire doors or the stopping and starting of fans.
*Prices listed do not include GST/VAT
** License is per PC or individual. Licenses contain "virtual keys" restricting use to one PC at a time.
Please contact us for more information.