Howden is proud to announce the release of Ventsim version 5.4.  This release highlights our continued commitment to invest in research,  innovation, software design and engineering to produce unique advanced features only found in Ventsim.
The aim of VentSim has always been to supply ventilation professionals with software tools to help develop safe, efficient and productive ventilation designs.   Thank you to our loyal customers for your feedback and guidance and welcome to our new customers.  Your continuing support will allow us to maintain developing and improving Ventsim into the foreseeable future.
This new version introduced a range of advanced new and improved features designed to address critical safety and productivity aspects of ventilation design such as block caving collapse and escape routing and conveyor ventilation design  A range of new productivity features is also introduced such as  the overpass builder, dynamic and fire simulation rewind, advanced message boxes, and improved annual flywheel, all while striving for better ventilation models with the new audit tool and strict mode feature.
Duct Calculator
The traditional Ventsim duct builder feature provides a detailed way to model fan and duct performance in 3D.  However, sometimes quick and simple checks and designs are required for simple systems.  A new software tool has now been included with Ventsim 5.4 Premium Licenses.  The new Duct Calculator tool is a standalone software application that provides a quick and simple way to simulate fan and duct performance over difference sized ducts and lengths.
The software allows fan curves to be quickly entered or imported from a Ventsim model, and then modelled for flow input and output, pressure and air leakage (associated with different duct conditions).  If a fan type or power is not known, a required airflow or available power can be entered, and the software will calculate missing information such as maximum power, airflow and duct length limitations for specific sized or shaped duct.
The software reports result in easy to understand graphs that display duct performance as it is extended to its maximum length along development routes.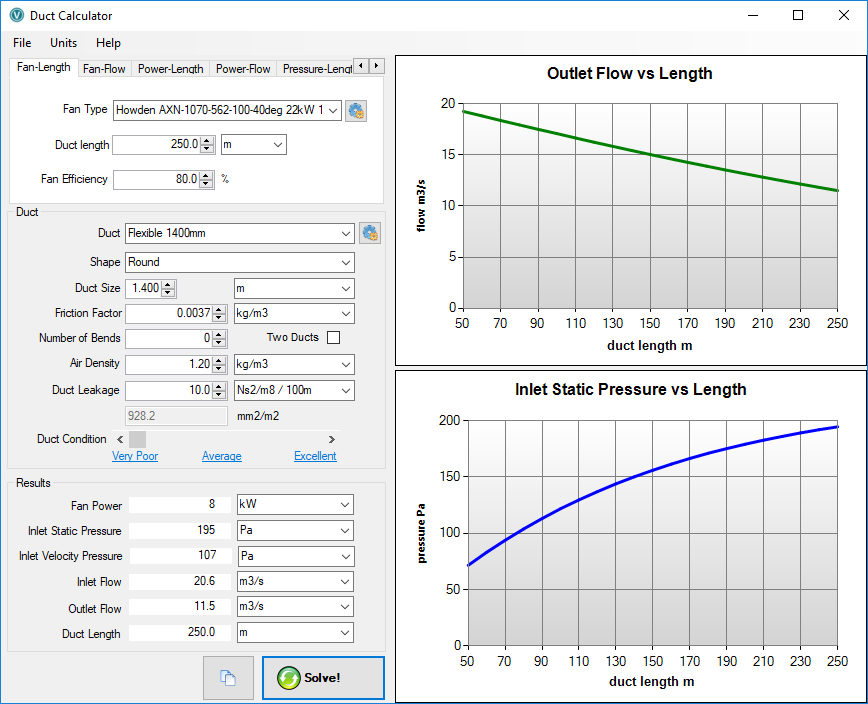 Dynamic Simulation Rewind
Once a VentFIRE or Explosives simulation is run, the simulation can be replayed faster or slower, focusing on any periods of interest or looking at different data. Fire simulation can be long and being able to replay and analyse the results in details is key for a good understanding of the fire simulation results.

Advanced Message Boxes
The Advanced Message Boxes combine 2 powerful VentSim features, the Messages and the Data Boxes. With the Advanced Message Boxes, you can easily visualize data from your model, such as
the sum of your exhaust airflow
the peak heat or velocity in the decline
the performance of each fan
total diesel equipment
It can be accessed through the Advanced tab of the message form. After selecting the data and the operation to be performed, the user can add text around the displayed value.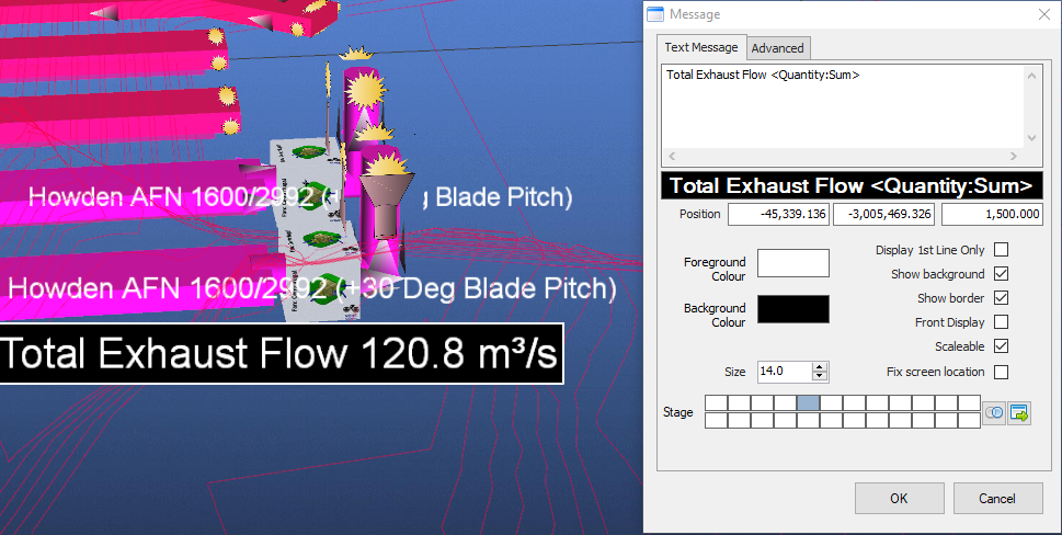 Overpass Builder
The overpass builder allows the user to efficiently build an overpass. It can be found under the draw menu. The user can set the height of the overpass (can be negative for an underpass) and the resistance of the leakage. Once selected, click and drag from one side of the overpass to the other. It will automatically go up and down each time another airway in crossed.

Conveyor Belt Heat
Conveyor belts can be added to models in VentSim 5.4, which add heat to the Heat Simulation according to the conveyed ore type, heat, conveyor velocity and mass flow rate and the conveyor power. To create a new one, select the airway in which the conveyor is running and go to Draw | Conveyor Belt.
Caving Blast Simulation
Block caves and stopes can produce violent gusts of air when caving occurs. VentSim 5.4 includes a tool to model the air blast that results from caving events, predicting peak air velocities and seal pressures throughout the mine. Inputs to the Caving Blast simulation are the cave size, muck pile height and connecting airways and drawpoints to the cave.
Unit Options
When adding a new fan curve using the Fan Digitizer, it is now possible to select different units to the default Ventsim units. The unit will be saved with the fan. The same is also available in the Fire Wizard.
New Annual Flywheel Results
Improved information is now available on the Flywheel graphs. The variation of temperature and airflow of each airway can be examined. Additionally, if a Fixed or Limit Temperature is used in the mine, the amount of Heat Added to maintain the fix or limit.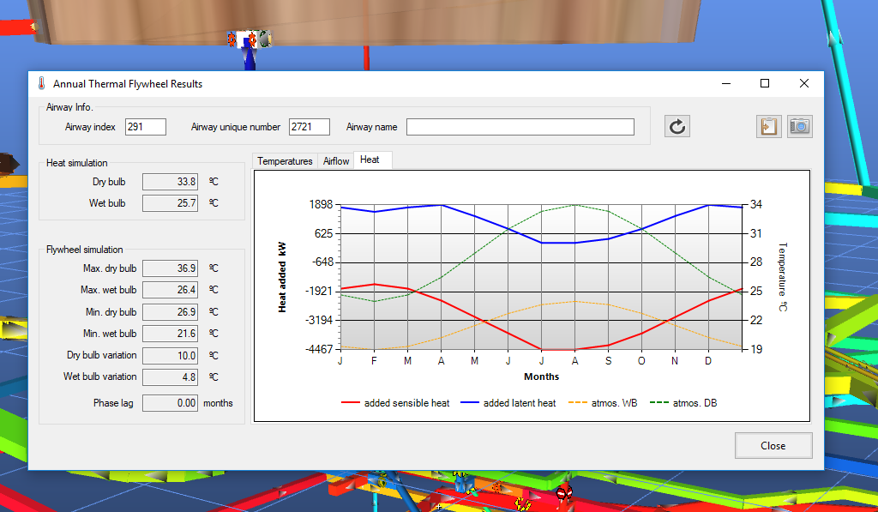 Customisable Gas
Customisable gas allows the user to change the existing VentSim gases to match the gases they wish to simulate. For example, a user wanting to simulate stench gas as part of a Gas Simulation could rename "H2" to "Stench".
Strict Mode
Strict Mode is enabled through the licensing or in the Settings for Airflow Simulation. In Strict Mode, if auto friction factor is used, a warning will come up. It forces the user to apply a relevant friction factor to all airways.
Escape Routes
The Escape Route form has been redesigned, making features easier to access as well as adding short cuts for some key features such as colouring the model by safety level or keeping the model visible.
Audit Form
The Audit tool allows the user to verify that their model have correctly made and that all necessary information for an accurate simulation have been considered. It was redesigned to be easier to use and adding functionalities:
Picture can be added in the report
Sniping tool icon included in the window
Creates a word document that is easy to edit at the end
Saves and load reports
Undo and Redo List
The Undo function now shows a list of recent events, making it easier to go back to previous events.