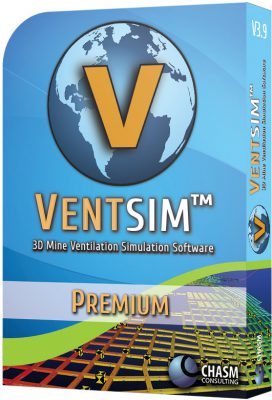 All features of

 

VentSim™ Advanced
Dynamic Heat and Gas programmable events

 

– heat, air or gas changes can be introduced at pre-programmed dynamic intervals
Radon Simulation

 

– Predict worker exposure levels based on radon emission rates from different areas, and the length of time the gas is allowed to remain in the mine atmosphere based on your ventilation design.
VentLOG™

 

– Software package to record survey data, export to plans and overlay on VentSim™ models
LiveVIEW™ Module

 

– VentSim™ module to connect to external data and display and simulate real time data
VentFIRE™ Module

 

– VentSim™ module to utilise

 

dynamic simulation

 

to predict fire heat, gases and flow direction
VentSim™ Premium - Full Licence
Full license price includes the first 3 months of maintenance and upgrades.
VentSim™ Premium - 12 Month Maintenance
Includes unlimited upgrades, tech support and quarterly newsletter.
VentSim™ Premium - Per 3 Months
Time limited license, includes upgrades and support.

* All prices in AUD (Australian Dollars) and does not include GST..
** License is per PC or individual. Licenses contain "virtual keys" restricting use to one PC at a time.
*** Additional site licenses can be purchased at a 25% discount. Please contact us for more information.